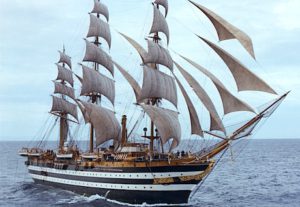 On Saturday the 23rd of July WWF organized a roundtable to discuss the state of the environment and the oceans with the presence of the State Secretary of Fisheries of Portugal. This debate took place on the Italian naval ship Vespucci, appreciated as being a very unusual venue. People attended to hear specialists talk about their visions and also took the opportunity to visit this emblematic ship that was in Lisbon for the Tall Ships Race.
WWF presented the Fish Forward project and the recommendations for a sustainable consumption of fish and seafood that caught people's attention as Portugal is a big consumer of fish. Both the environmental coalitions of NGOs where WWF is integrated were also present to talk about their agenda and objectives.
The event was closed by the State Secretary of Fisheries who drew attention to the potential of Portuguese oceans and the sustainable practices needed in the fisheries and consumption sectors in order to preserve them.
A cocktail with sustainable sea products was served at the end.